The Martian Legion: In Quest of Xonthron
In 1913, Edgar Rice Burroughs contemplated penning a crossover tale uniting his two greatest creations, Tarzan and John Carter of Mars. He ultimately gave the idea up as unworkable, concerned that he couldn't do justice to both heroes in one novel.
In an alternate universe, Burroughs not only wrote that tale, he lived it—and presented the manuscript to author Jake "Buddy" Saunders' grandfather. Decades later, Saunders has chosen to share it with the world.
Big ideas deserve a big stage, and Martian Legion delivers on all counts. It's a story too big to be contained in one pulp hero franchise, one world, one age, or one universe.
A pantheon of heroes, including Tarzan, John Carter, Doc Savage, The Shadow, Carson Napier, Alley Oop and more gather to combat a foe across planets, dimensions, and time. The epic account unspools across a quarter of a million words, and takes readers not only to Africa and Barsoom, but to new worlds, with new heroes in the grandest Burroughsian tradition.
The novel solves many of the conundrums and undeveloped strands in the Burroughs universe, while setting the stage for sequels—perhaps a trilogy taking us to Venus and Beyond the Farthest Star is in order?
As befits the ambitious scope of the story, the artistic presentation is unparalleled. One-hundred-thirty new illustrations were commissioned for this opus, with contributions by Thomas Grindberg, Michael C. Hoffman, and Craig Mullins, on archival, acid-free paper, bound in leather (banth and thoat) in one giant volume.
Readers of Tarzan: The Centennial Celebration know I'm a fan of grand presentations, and this book is a spectacular showcase of story and art. Whether you are a collector of fine books, or simply someone who loves a tale well told, The Martian Legion: In Quest of Xonthron is a must-have for pulp enthusiasts.
This review by Scott Tracy Griffin. Mr. Griffin is the author of Tarzan: The Centennial Celebration (Titan Books, 2012), the only authorized illustrated history of Edgar Rice Burroughs' famed ape man.
A completely new ERB adventure of Homeric proportions. A quarter million words of high adventure, like getting three ERB novels in one!
Written in spirit by Edgar Rice Burroughs with an assist from Jake Saunders.
Spot Illustration by Michael C. Hoffman
One of many spot illustrations by noted fantasy and sci-fi artist Michael C. Hoffman that help bring The Martian Legion's cast of characters to life in stunning detail.
Illustration by Tom Grindberg
Fan favorite Tarzan artist Tom Grindberg contributed numerous fantastic illustrations to The Martian Legion. A long-time comic artist with both DC and Marvel Comics, Tom is also the illustrator of the web comic The New Adventures of Tarzan published by Edgar Rice Burroughs, Inc.
Illustration by Craig Mullins
Renowned digital painter and concept artist Craig Mullins contributed several gorgeous single and double-page paintings for The Martian Legion, including this encounter at the Great Library of Helium
Featuring 130 illustrations by Tom Grindberg, Michael C. Hoffman, and Craig Mullins, including:
o 106 spot illustrations
o 21 full page paintings and color illustrations
o 3 double-page paintings and color illustrations
Deluxe Clamshell Presentation Box
The first 1,100 copies of this special limited edition come with a deluxe clamshell presentation box. This finely crafted presentation box is of the same high quality as the book inside.
Box measures 12-1/2-in. x 13-3/8-in. x 3-1/2-in.
Presentation Box Seal
The seal in the center of the presentation box lid bears the same image engraved upon the collectible Barsoomian coin contained within the box.
Coin Case
Snugly hidden in the bottom of the presentation box is a coin case emblazoned with the Burroughs colophon, what ERB referred to as his "doodad." This case contains a collectible Barsoomian coin: platinum, gold, silver, or pewter with bronze finish, depending on which edition is purchased.
Note: The ribbon is shown here beneath the coin case so as not to obscure the image, but the ribbon normally runs above the coin case and beneath the book, thus to be used to lift the book out of the presentation box.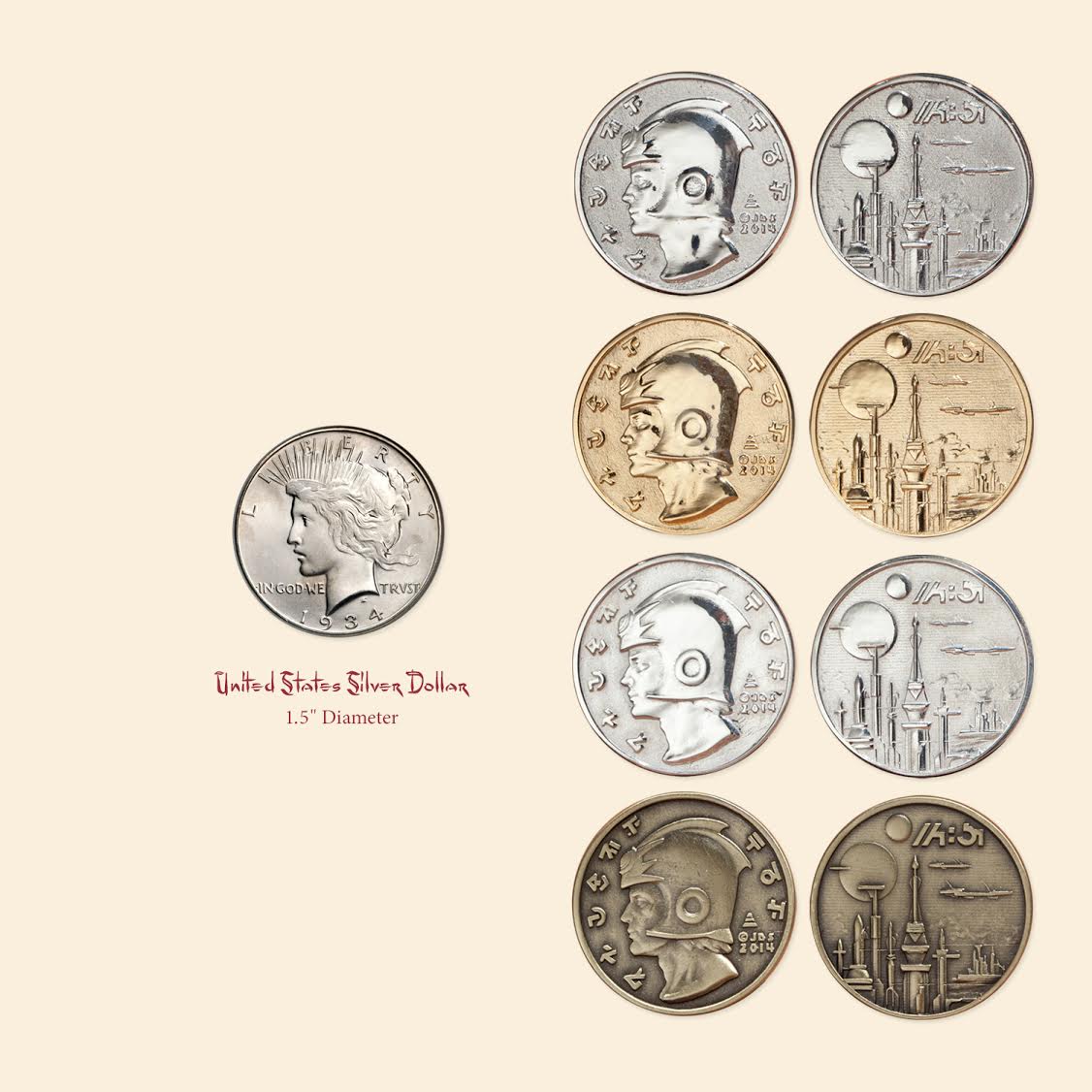 Barsoomian Coin
The Barsoomian coin accompanying books #1 – 1,100 was sculpted in exquisite detail by Joe DeVito and minted in four versions:
Books #1 – 3: 99.9% Pure Platinum. Average weight 44.56 grams (41.63-46.35g).
Books #4 – 21: 22 Karat Gold. Average weight 36.56 grams (31.06-39.08g).
Books #22 – 100: 99.9% Pure Silver. Average weight 21.65 grams (17.96-25.98g).
Books #101 – 1,100: Pewter with Bronze Finish.
Coin weights vary slightly due to minuscule variations in the casting process and will be randomly assigned among the buyers of each edition.
From top: platinum, gold, silver, pewter with bronze finish.
Coin Case
Shown here is the coin case emblazoned with the Burroughs colophon, which comes with books #1-1,100. Shown left to right is the Barsoomian coin in platinum, gold, silver, and pewter with bronze finish.
Tars Tarkas
Here the Jeddak of the Tharks holds each of the four Barsoomian coin types minted for this book.
Signed and Numbered
Books #1-100 are signed by the full creative team of Saunders, Grindberg, Hoffman, Mullins, DeVito, Cabarga, and Cochran.
Books #101-1,1100 are numbered but not signed.
The 3,000 books in the Friends of Barsoom edition are not signed or numbered, and do not include the presentation box and Barsoomian coin.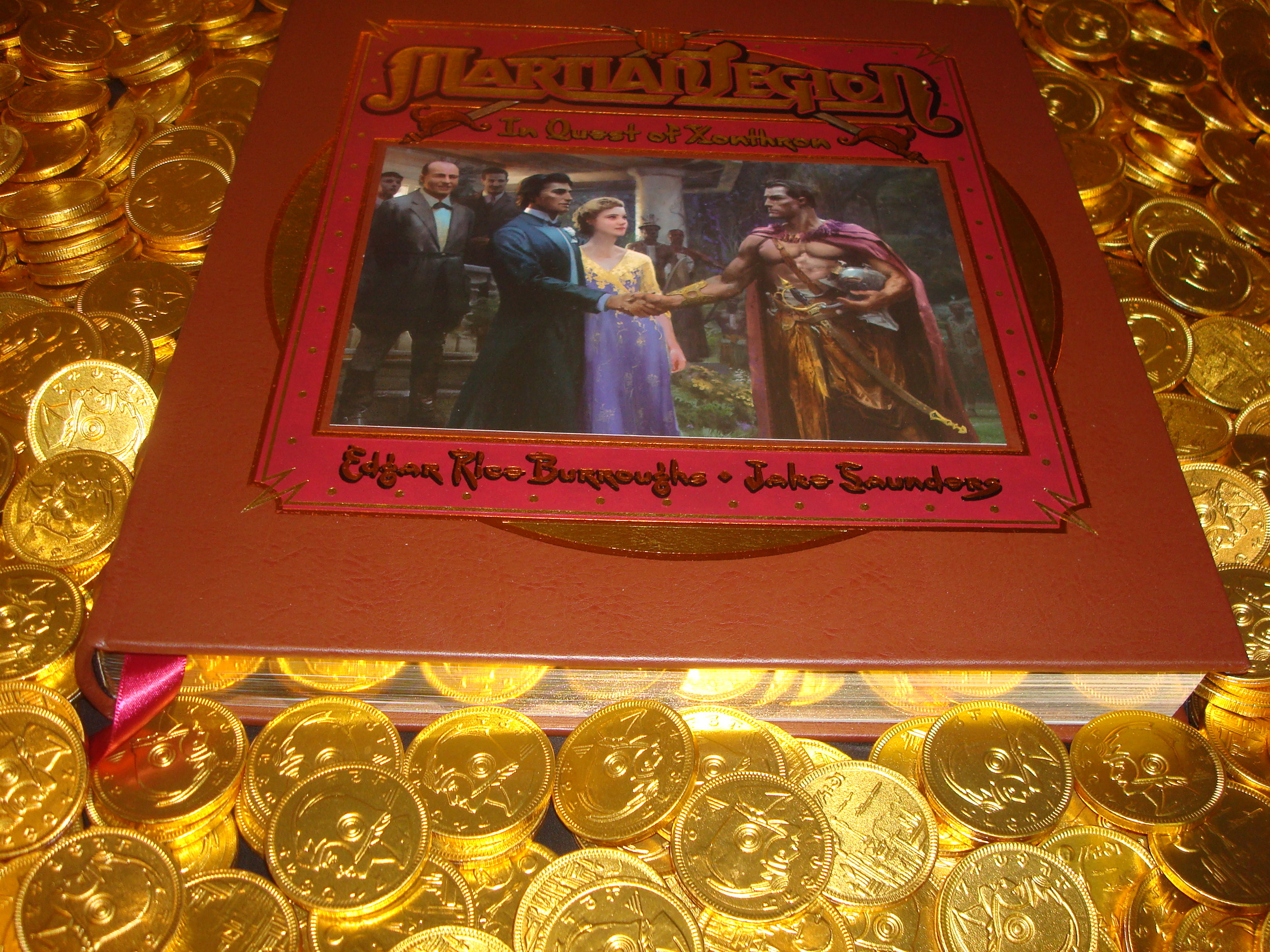 Gilt Pages
Books #1-1,100 feature gilt-edge pages as as seen here where Martian coins are reflected in the gilding.
The coins in this photo are promotional chocolate coins in gold foil, which will be available at some book events. These are not the actual 22 karat gold coins issued with books #4-21.
Personalized Ownership Certificate
Each of the numbered books #1-1,100 comes with a personalized ownership certificate representing shares of common stock* in Napier Industrial & Mercantile Co. and will be listed in The Martian Legion's online registry.
Worldbuilder Platinum Edition: 10,000 shares
Legion Members & Jeddaks Gold Edition: 1,000 shares
Warriors of Barsoom Silver Edition: 500 shares
Wonders of Barsoom Bronze Editon: 100 shares
* These stock certificates are marketable securities only in dimension Prime Two. In our own dimension of Sub-Prime One, Napier Industrial & Mercantile Co. is considered a fictitious company and the certificates therefore have no recognized monetary value in any reputable exchange.
Note: The number "P23" assigned to this certificate distinguishes it as a publisher proof copy. The numbering for books #1-1,100 will not include the letter "P."
This concludes your photo tour of The Martian Legion!
The Martian Legion